Epson TM-U220PD-653 Parallel POS Receipt Printer (Special Order)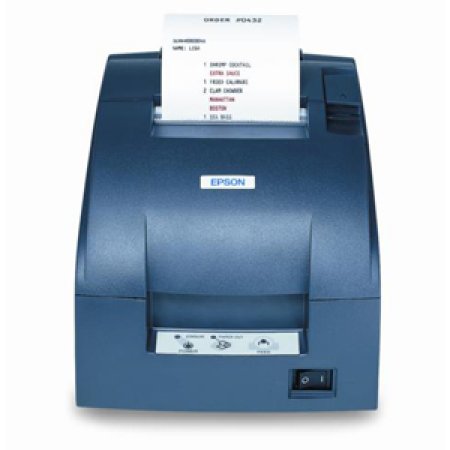 Epson TM-U220PD-653 Parallel POS Receipt Printer (Special Order)
Price included $8 Environmental Handling Fee for Ontario
$265.00 (Unit Price)
+$8.00 (Environmental Fee)
$273.00
Special Order item (1 - 2 Days Turnaround)
Epson's TM-U220 series printers are compact, reliable and optimized for high-speed throughput. They offer all the easy-to-use features important to the retail, restaurant and hospitality industries and two-color printing to highlight special offers, kitchen orders and impactful logos. In addition, the TM-U220 series printers have been designed to be 100% compatible with existing systems that currently use a TM-U200 printer.
PN: C31C518653
Printer Type: Receipt Printer
Printer Technology: Dot-matrix
Printer Interface: Parallel
Printer Speed: 4.7 lps(at 40 columns, 16 cpi), 6.0 lps(at 30 columns, 16 cpi)
Printer Output: Monochrome
Printer / Max Resolution ( B&W ): 17.8 / 16 cpi, or 14.5 / 13.3 cpi
Duplex Printout: N/A
Printer Fonts Included: 95 Alphanumeric, 37 International, 128 x 12 Graphic
Number of Columns: 40 / 42, or 33 / 35
RAM / Total Installed Size: N/A
PC Compatibility: Windows
Media:
Printer / Media Type: Receipt paper
Printer Media Size (Standard): 2.26 in.(57.5 mm) / 2.73 in.(69.5 mm) / 3 in.(76.0 mm)
Printer / Total Media Capacity: 1 roll(max. 3.26 in. / 83.0 mm diameter)
Dimensions:
Width: 16.002 Cm
Depth: 24.892 Cm
Height: 13.970 Cm
Header / Model: TM-U220 PD
Features: Print head: 9 pin
Interfaces & Connections: 1 x parallel - IEEE 1284 (EPP/ECP)
Compliant Standards: VCCI class A, FCC class A, CE marking, AS/NZS 3548 class B, UL, CSA, TUV (EN60950)
Warranty: 2 years Epson warranty
UNSPSC Code: 43212102
Standard shipping rate does not cover northern parts of Ontario (i.e. Thunder Bay and surrounding cities or town), extra shipping charge will be applied.