1 to 4 HDMI Active Splitter with Power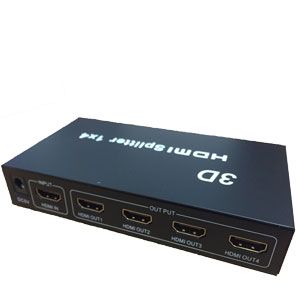 1 to 4 HDMI Active Splitter with Power
HDMI 1-to-4 Splitter
Allows simultaneous display




HDMI 1.4 Compliant




HDCP compliant



Video Amplifier Bandwidth: 4.95 GHz
Input Video Signal: 1.2 volts p-p
Input DDC Signal: 5 volts p-p (TTL)
Single Link Range: 1080p/60 10 bit color depth, 1920x1200.
HDMI Connector: type A 19 pin female
Power Supply: 5VDC
Power Consumption: 10 watts (max)
Warranty: 90 Days
Standard shipping rate does not cover northern parts of Ontario (i.e. Thunder Bay and surrounding cities or town), extra shipping charge will be applied.