2.1mm DC Power Plug to 2 Pin Screw Terminal Adapter / Converter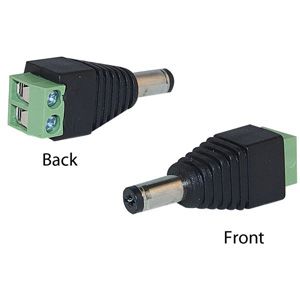 2.1mm DC Power Plug to 2 Pin Screw Terminal Adapter / Converter
The PT-3B is a 2.1mm DC power plug to 2 pin screw terminal adapter / converter. These power adapters are typically used to connect the power input of an IP or CCTV security camera to a power cable pair, such as 18/2 power cable. The 2.1mm female end conveniently connects to security cameras that have a standard 2.1mm male input. The 2 pin screw terminal side makes it simple for the installer to insert and secure 18/2 power cable such as from industry standard RG59 Siamese cable typically used in CCTV installations.
Female DC plug to positive / negative pair screw terminals




Converts 2.1mm DC Camera input to accept 18/2 power cable




Easy to use screw terminals
Standard shipping rate does not cover northern parts of Ontario (i.e. Thunder Bay and surrounding cities or town), extra shipping charge will be applied.