Acer Aspire Switch 10 SW5-012-12D2 64GB Tablet - Gentle Gray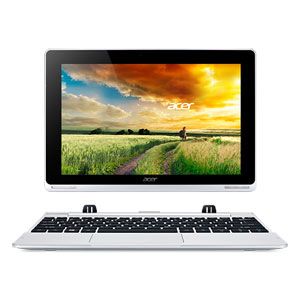 Acer Aspire Switch 10 SW5-012-12D2 64GB Tablet - Gentle Gray
Fluidly elegant The Aspire Switch 10 knows design doesn't only live in a static image. Design lives in use. It is the feeling of the metal under fingers, a smooth release, a conveniently slim profile. Acer Snap Hinge design is flipping, folding, docking, detaching and all of the activities that ensue. Delightfully productive The Aspire Switch 10's Intel Atom processor and Microsoft InstantGo means a smooth, fast experience and less time wasted. AcerCloud allows you to access your files anywhere on any device. Its more productive, which means you can be too. Stunningly vibrant The Aspire Switch 10 makes visuals enjoyable in any situation. From a game between airport gates to a TV show caught between classes to an interactive children's book before goodnight, the Zero Air Gap (direct bonding) and IPS technology offer a stunning display for one or many.
Product Type: Tablet/Laptop – 2 in 1 Convertible (Refurbished)




Screen Resolution: 1280 x 800




Screen Size: 10.1"




Number of Cell: 2




Standard Memory: 2 GB DDR3L




Weight (Approximate): 280 g




Operating System: Windows 8.1 32Bit




Touchscreen: Yes




Processor Speed: 1.33 GHz




Processor Type: Intel Z3735F Quad-Core




Camera: Front & Rear




Bluetooth: Yes




Enthernet: Yes




Wireless: Yes




Micro SD Slot: Yes




Color: Gentle Gray




Product Dimensions: 13 x 21.5 x 0.8 cm




Weight: 340 g




Warranty: 1 Year Acer Limited Warranty
Standard shipping rate does not cover northern parts of Ontario (i.e. Thunder Bay and surrounding cities or town), extra shipping charge will be applied.