APC BE750G 750VA Battery Power Backup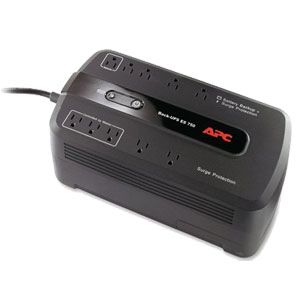 APC BE750G 750VA Battery Power Backup
The APC Back-UPS ES 750 provides up to 70 minutes of battery backup for home computers in case of power failure. The Master/Controlled outlets and ultra-efficient design combine to conserve power and natural resources while saving you money on your hydro bill.
Protect your connected equipment from damaging surges and spikes that travel over utility, COAX, and phone/fax or network lines




Included PowerChute Personal Edition software saves your open files and gracefully shuts down your system in the event of extended power outages




Suitable for home and home office computers




Output Power Capacity: 450 Watts/750 VA




Nominal Output Voltage: 120 V




Output Frequency (sync to mains): 60 ??3 Hz




Waveform Type: Stepped approximation to a sinewave




Typical recharge time: 16 hours




Weight: 7Kg




Dimensions: 15 x 25.9 x 45.2 cm




Warranty: 3 Year APC Limited Warranty



Standard shipping rate does not cover northern parts of Ontario (i.e. Thunder Bay and surrounding cities or town), extra shipping charge will be applied.