ARCTIC Cooling Freezer 64 Pro. AMD CPU Cooler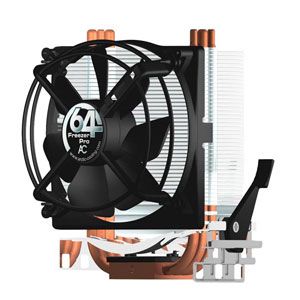 ARCTIC Cooling Freezer 64 Pro. AMD CPU Cooler
A 92 mm PWM fan, 45 fins, 3 double-sided copper heatpipes in combination with pre-applied MX-4 high performance thermal compound provide excellent cooling performanceand and improve heat transfer from the CPU. In a test conducted by Kitguru, the Freezer 7 PRO successfully reduced the CPU core temperature of an Intel Core i7 920 by 16.5 degrees.
Its low noise impeller and patented fan holder ensures the fan to work quietly even under full load.
The test done by Tom's Hardware has shown that the Freezer 64 PRO is 3-15 dBA quieter compared to the Cooler Master Hyper 212 Plus, Tuniq Tower 120 Extreme and Thermaltake Frio at full load.
Thanks to the PWM control, the fan speed adjusts according to the CPU temperature and thus the noise level remains at an absolute minimum which qualifies it as a silent cooler. Click here to see how the PWM control settings can be changed according to your performance and noise preference.
Extremely versatile to fulfill your preference on the airflow pattern within the PC case, you can mount the Freezer 64 PRO in anyway, you want to get the exact airflow you need.
Compatible: AMD FM2(+), FM1, AM3(+), AM2(+), 939, 754
Standard shipping rate does not cover northern parts of Ontario (i.e. Thunder Bay and surrounding cities or town), extra shipping charge will be applied.