ARCTIC Freezer 7 Pro Rev. 2 CPU Cooler for Intel & AMD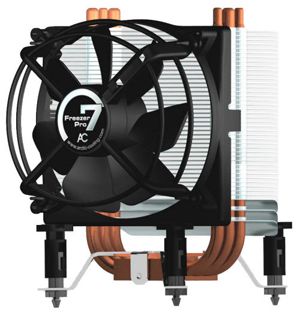 ARCTIC Freezer 7 Pro Rev. 2 CPU Cooler for Intel & AMD
Freezer 7 Pro Rev. 2 is a high performance CPU cooler for Intel and AMD. The heatsink features 6 heatpipes and 42 fins for efficient heat dissipation. Thanks to the vibration absorption the fan is whisper-quiet even at full load.
Featuring a 92 mm PWM fan and 6 heatpipes, the Freezer 7 Pro Rev.2 offers performance far beyond stock coolers and achieves 130 Watts cooling capacity. The unique heatsink design consists of 42 fins, which significantly enhances the heat dissipation performance.
Due to the low noise impeller and the fan holder, the 92 mm fan of the Freezer 7 Pro Rev. 2 generates only 0.8 Sone at 2,500 rpm, which is extremely quiet for such performance. Controlled by PWM signal, the fan runs just the necessary speed at lowest noise level for maximum cooling capacity.
The unique mounting system via push pins offers excellent stability and is applicable within a few seconds. The pre-applied ARCTIC MX-2 thermal compound makes the installation a quick and clean process.
With the flexible mounting design, the Freezer 7 Pro Rev. 2 is compatible with Intel Socket 1366, 1156, 1155 and 775 as well as AMD Socket AM3, AM2+, AM2, 939 and 754.
Intel CPU LGA 1150 / LGA 1366 / LGA 1156 / LGA 1155 / LGA 775
Standard shipping rate does not cover northern parts of Ontario (i.e. Thunder Bay and surrounding cities or town), extra shipping charge will be applied.