AROMA DIFFUSER WITH BLUETOOTH SPEAKER ALS-01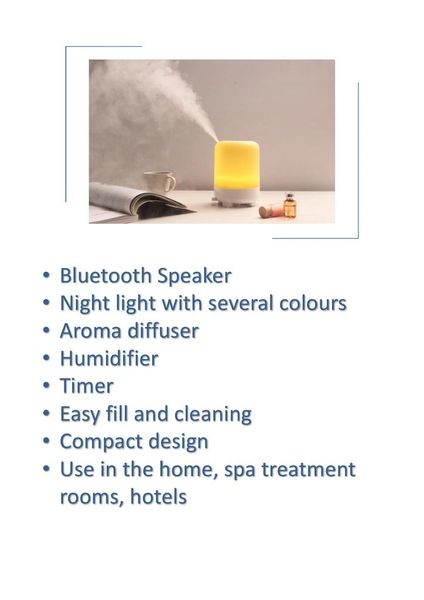 AROMA DIFFUSER WITH BLUETOOTH SPEAKER ALS-01
AROMA DIFFUSER WITH BLUETOOTH SPEAKER ALS-01
This smart product offers so many different features! Aroma is a simple but amazing lamp that combines a diffuser with humidifier, and a Bluetooth speaker. The lamp offers a LED colour-changing light that is dim and soothing and turns on using the touch button. The lamps main feature is the aromatherapy diffuser and humidifier that sprays thick mist into the air.
By using this aroma diffuser you can help create a more healthy and calming atmosphere. The product is also Bluetooth enabled which allows you to play wireless music through this lamp which plays high quality sounds with amazing bass performance.
This is the perfect product for your home, office or bedroom to add some calming aromas and healthy environments. Or why not buy for someone you know who would love this product as a new addition to their home.