Asus GTX960-MOC-2GD5 GeForce GTX 960 Graphic Card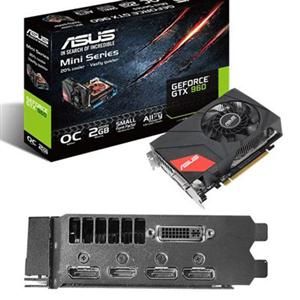 Asus GTX960-MOC-2GD5 GeForce GTX 960 Graphic Card
Manufacturer: ASUS Computer International
Manufacturer Part Number: GTX960-MOC-2GD5
Manufacturer Website Address: www.asus.com
Brand Name: Asus
Product Model: GTX960-MOC-2GD5
Product Name: GTX960-MOC-2GD5 GeForce GTX 960 Graphic Card
Marketing Information: ASUS GeForce® GTX 960 Mini small form factor gaming graphics card
1253 MHz engine clock for better performance and outstanding gaming experience.
20% Cooler and Vastly Quieter with exclusive Mini thermal solution.
Premium alloys in power delivery components defeat heat for cards that run 15% faster and last 2.5 times longer than reference.
GPU Tweak helps you modify clock speeds, voltages, fan performance and more, all via an intuitive interface.
GPU Tweak with XSplit Gamecaster Real-time and intuitive GPU clock boost, and live-stream your gameplay instantly.