AViiQ 6 Rotating Surge Protector AV-SP8O-P810P600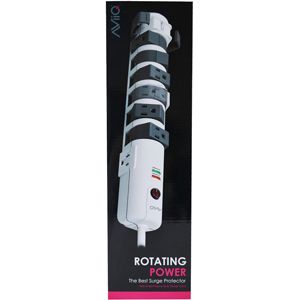 AViiQ 6 Rotating Surge Protector AV-SP8O-P810P600
AViiQ's rotating power surge protector offers a safe and outstanding performance on all connected devices. Designed with X3 new MOV (Metal Oxide Varistor) and safety shutdown technology, it provides common and normal mode protection from high energy spikes. It uses thermal fuses to power off your system, which protects against fire and other damage in the event of an extreme, extended over voltage or hen surge protection expires. On top of the economical features, it also has a high-frequency capacitor to reduces noise interference convenient for home and office use.
8 Grounded Outlets - 6 grounded 180° Rotating Outlets & 2 Fixed Outlets




High Joules Surge Protection - protects against lightning strikes and line surges




Cord Management Design - cord management design to avoid jumble mass




Indicator Function Design - power push button with protected and grounded indicator




Fireproof - advance surge protector with X3 MOV




Warranty: 30 Days



Standard shipping rate does not cover northern parts of Ontario (i.e. Thunder Bay and surrounding cities or town), extra shipping charge will be applied.