AViiQ Play & Charge 3-In-1 Personal Power Station AV-SP3U-P334O3W0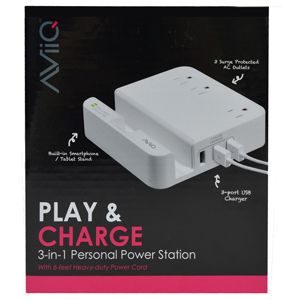 AViiQ Play & Charge 3-In-1 Personal Power Station AV-SP3U-P334O3W0
The combination of 3-port USB charger and 3 surge protected AC outlets provides instant power access for all your gadgets. Play and charge your tablet hands-free on the specially designed stand. Come with 6-feet heavy-duty power cord.
3-port USB (5V, Total 2.1 Amp)




3 Surge Protected AC Outlets




Built-in Smartphone / Tablet Stand




Apple White Glossy Finish




SJT16AWG x 3C 6-feet heavy-duty power chord




Warranty: 30 Days
Standard shipping rate does not cover northern parts of Ontario (i.e. Thunder Bay and surrounding cities or town), extra shipping charge will be applied.