BNC Male to double BNC Female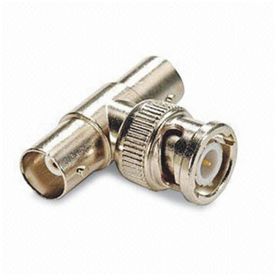 BNC Male to double BNC Female
This 75 ohm BNC T connector has a male base (gold tip pin and locking collar) with two female ends. Usually used as a "Y" adapter to add an additional line to one source. The base connector (bottom) connects directly to chassis BNC terminals.
Great for Security CCTV or other purpose
T connector
Standard shipping rate does not cover northern parts of Ontario (i.e. Thunder Bay and surrounding cities or town), extra shipping charge will be applied.