Channel Master CM-3000HD SMARTenna Indoor/Outdoor HD Antenna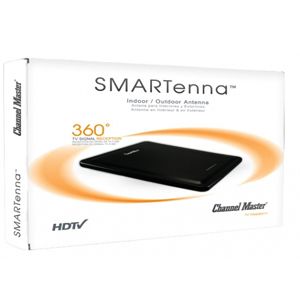 Channel Master CM-3000HD SMARTenna Indoor/Outdoor HD Antenna
The SMARTenna (CM3000HD) is a high-performance antenna designed for indoor use up to 35 miles or outdoor use up to 50 miles from your local TV stations transmitter. This antenna provides high performance with a small size and eliminates the need for amplification in most installations. The SMARTenna comes with both simple table top feet for indoor use and a versatile mounting bracket for easy outdoor installation. The omni-directional design allows for reliable signal from multiple directions without the need for pointing or rotating. Weather-resistant with UV stabilized plastics that can be painted to match the décor of your home – inside or outside.
Bandwith: 174 to 216 and 470 to 700 MHz
VHF Gain: 5dB
UHF Gain: 8dB
Front to Back Ratio: N/A
Return Loss: 9dB
Impedance: 75 Ohm
Standard shipping rate does not cover northern parts of Ontario (i.e. Thunder Bay and surrounding cities or town), extra shipping charge will be applied.