Channel Master CM-4228HD EXTREMEtenna 8-Bay Outdoor Digital Antenna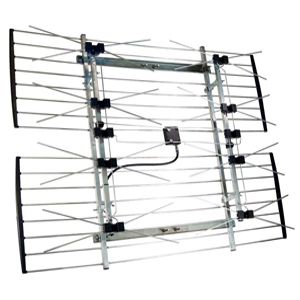 Channel Master CM-4228HD EXTREMEtenna 8-Bay Outdoor Digital Antenna
The EXTREMEtenna is an 8-Bay, phased array, multi-directional outdoor antenna that receives high definition and digital signals from a span of 180 degrees. This antenna has a reception range of up to 80 miles.
Bandwith: 174 to 216 and 470 to 700 MHz
VHF Gain: 5dB
UHF Gain: 12dB
Front to Back Ratio: 18dB
Return Loss: N/A
Impedance: 75 Ohm
Mounting Clamp: U bolt up to 2"
Turning Radius: 2 ft.
Output Connector: F-type
Size (packaging): 1041.1L x 863.6W x 76.2H mm
Wind Resistance: (at 100 mph, no ice) – 72 lbs
Standard shipping rate does not cover northern parts of Ontario (i.e. Thunder Bay and surrounding cities or town), extra shipping charge will be applied.