Cooler Master Notepal LapAir, Notebook Cooler (R9-NBC-LPAR-GP)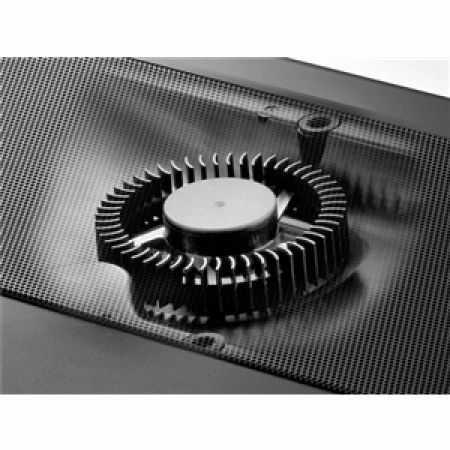 Cooler Master Notepal LapAir, Notebook Cooler (R9-NBC-LPAR-GP)
The Notepal LapAir is a simple and elegant solution to a problem that has existed since the mass production of laptops. That is, finding a comfortable way to use a laptop away from a desk without it overheating or burning the user. A laptop cooler and a cushion have come together to create the perfect away from the office companion. It allows users to work on their laptop anywhere they can find a seat or lay down. The LapAir becomes an ergonomic surface for viewing and typing while resting on a users lap. Cooler Master understands that comfort is paramount in these situations and the Notepal LapAir is engineered to deliver.
Model R9-NBC-LPAR-GP
Color Black
Material Plastics, Metal mesh, Rubber, PU sponge
Weight 2.65 lbs / 1.2 Kg
Dimension 16.93" x 12.44" x 0.71~2.21"
430 x 316 x 18~56mm
Fan Dimension 80 x 80 x 21.3 mm blower fan
Fan Speed 1650 ± 15% R.P.M.
Fan Speed Adjustment Single Speed
Fan Airflow 65 CFM
Fan Noise Level (dB-A) 23 dBA
Power USB 5V DC
USB USB 2.0/1.1 x1 (For Power Input)
Power consumption 1.7W, 0.34A
Compatibility Supports up to 17" laptops