Creative A550 5.1 Gaming Speaker - Black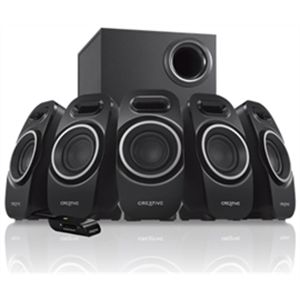 Creative A550 5.1 Gaming Speaker - Black
5.1 Gaming Speakers:
Our Loudest A series speakers yet, the A550 lets you surround yourself in positional 5.1 movie, game or music louder than ever before with innovations that create a full spectrum, louder and more detailed audio with an enhanced mid-bass and amazingly accurate sonic imaging. All these with the newly designed Creative DSE (Dual Slot Enclosure) and Creative IFP (Image Focusing Plate).
Big Sound from a Compact System:
The speaker system's satellites feature the Creative DSE design, which enables them to achieve louder and deeper playback even when constrained to a compact housing. This is made possible by separating the port tube into two separate slots and reconstructing them to fit into a tight enclosure. Their space-saving size allows for easy and versatile placement to achieve an excellent 5.1 positional audio experience.
Enjoy Natural Sounding Audio:
The newly-improved Creative IFP design features an extended flare surrounding the satellite driver to provide an even wider acoustic sweet spot. This improves sonic directivity to the listening area, giving music more focus while preserving tonal accuracy.
Solid Subwoofer with Adjustable Bass:
The system's down-firing ported subwoofer delivers impressive bass, and can be easily adjusted to the desired level.
Package Contents:
5 Satellite Speakers (Front Left, Front Right, Rear Left, Rear Right and Center satellites)
1 Subwoofer
3.5mm 5.1 analog jack
1 Warranty and Technical Support Booklet
1 Quick start guide
Dimension (L"xW"xH"): 12.99 x 8.78 x 14.33
Weight: 9.70 lb
Model: 51MF4120AA002-CA
Warranty: 1 Year Limited Creative
Standard shipping rate does not cover northern parts of Ontario (i.e. Thunder Bay and surrounding cities or town), extra shipping charge will be applied.