CyberPower EC650LCD Ecologic UPS Series Power Backup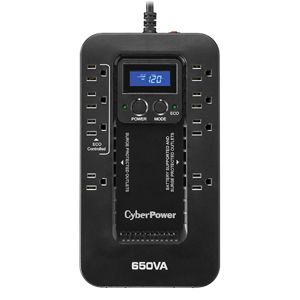 CyberPower EC650LCD Ecologic UPS Series Power Backup
The CyberPower Ecologic UPS Series EC650LCD uninterruptible power supply (UPS) safeguards PCs and other electronics (monitors, cable DSL/ modems, VoIP routers, and home theater devices) from blackouts, brownouts, surges, spikes, sags, and other power abnormalities. Its composite integrated circuitry offers advanced lightning protection. Patented GreenPower UPS™ advanced circuitry reduces UPS energy costs and is an ENERGY STAR listed product. The multifunction diagnostic LCD gives users the ability to check the operating status of the UPS and assist in trouble-shooting power anomalies.
The CyberPower EC650LCD features ECO technology with three surge protected ECO outlets. When ECO mode is on and the battery backup detects that your computer is off (or in Sleep mode), computer peripherals connected to the ECO outlets will be turned off (USB connection required). This provides additional reductions in power usage and greater energy savings.
The EC650LCD unit has a capacity of 650VA/390Watts, eight (8) NEMA 5-15R receptacles, including, 3 ECO mode outlets, and two (2) widely-spaced outlets to accommodate transformer-based plugs. Its compact design allows for horizontal or vertical placement, or it can be mounted on a wall. This UPS has a 12-volt maintenance-free sealed lead acid battery. Protection for phone/network (RJ11) is also included. EMI/RFI filters increase the immunity of the load to disturbances and surges.
A HID compliant USB port provides connectivity to the EC650LCD. PowerPanel® Personal Edition UPS Management software is included to monitor the vitals of the UPS and will safely shutdown the system in case of a power outage.
A Three-Year Warranty ensures that this UPS has passed our highest quality standards in design, assembly, material or workmanship and further protection is offered by a $100,000 Connected Equipment Guarantee.
650VA / 390W Simulated Sine Wave UPS




Standby Topology




Energy-conserving ECO Technology




Multifunction Diagnostic LCD




GreenPower UPS™




ENERGY STAR® Qualified




Full-time Surge Protection and Battery Backup




8 Outlets / USB Port / RJ11 Protection




EMI/RFI Filters




PowerPanel® Personal Edition



Standard shipping rate does not cover northern parts of Ontario (i.e. Thunder Bay and surrounding cities or town), extra shipping charge will be applied.