CyberPower Essential Series CSB6012 Surge Protector - 12FT. Cord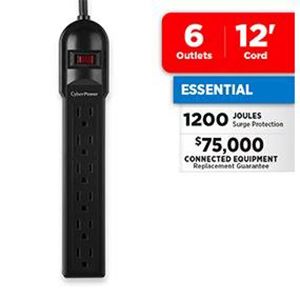 CyberPower Essential Series CSB6012 Surge Protector - 12FT. Cord
The CyberPower Essential Series CSB6012 Surge Protector is ideal for Home/Office protection with 1200 joules, 6 outlets, and a 12 ft. cord. The surge protector is ideal for protecting personal computers, phones/fax/modems, printers, stereos, and consumer electronics.
The CSB6012 features six (6) outlets, 12 ft. power cord that will make it easier to locate an open outlet, MOV technology to guard the surge protector and connected electronics against line abnormalities, and lightning surges, while EMI/RFI filters block unwanted line noise.
A Limited-Lifetime Warranty ensures that this surge protector has passed our highest quality standards in design, assembly, material or workmanship and further protection is offered by a $50,000 Connected Equipment Guarantee.
Note: Standard shipping does not cover northern parts of Ontario (i.e. Thunder Bay and surrounding cities or town), extra charge will be applied.