Dell Optiplex 3020 SFF Desktop - Intel Core i5 4590 Refurbished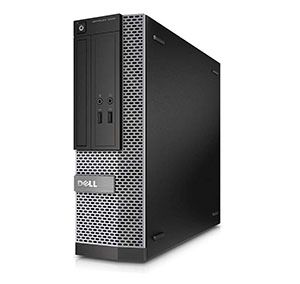 Dell Optiplex 3020 SFF Desktop - Intel Core i5 4590 Refurbished
The premier OptiPlex 3020 is Dell's most powerful and flexible desktop solution designed for best-in class performance and collaboration, while enabling business-class. The OptiPlex 3020 also supports flexible desktop virtualization deployment models to help users get up and running fast and have their data centrally stored to avoid downtime.
Product Features:
Dell OptiPlex 3020 SFF Desktop Refurbished
 Processor: Intel Core i5-4570 3.20 GHz
 Memory: 8GB DDR3
 Storage: 500GB
 Optical: No
 Video Interfaces: VGA & DISPLAYPORT
USB Ports: 8
 Warranty: 1 Yr.
Operating System: Windows 10 Professional 64 Bits