Electronic Master ANT-3053 Remote Controlled Rotating Outdoor HDTV Antenna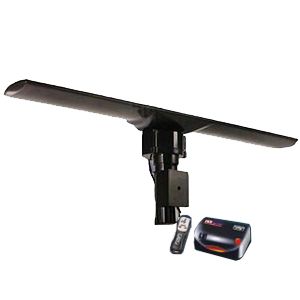 Electronic Master ANT-3053 Remote Controlled Rotating Outdoor HDTV Antenna
Electronic Master ANT3053 Remote Controlled Rotating Digital Outdoor Amplified HDTV Antenna with Solid structure, simple installation, impact portable design, ultrasonic welding, full waterproof, high quality reception, option for manual operation available, SMT circuit, special for digital/HDTV reception, VHF/UHF/FM signal reception, 100-Percent DTC and HDTV, built-in high gain booster and low noise circuit and works anywhere in the world.
This remote-controlled rotating digital outdoor amplified HDTV antenna lets you enjoy crystal clear HDTV programming within 100km of the source- It sports a built-in super low noise front amplifier and all directions are rotatable- Type of frequency: VHF, UHF, FM- Frequency range in MHz: 40-862- Available channel: 1-69- Gain in dB: 20-23- Effective reception distance: 100km- SMT circuit special for HDTV reception- 100% DTC and HDTV- Built-in high gain booster and low noise circuit- Ultrasonic welding, fully waterproof- Includes infrared remote control for rotation
Type of Frequency: FM, VHF and UHF




Frequency Range: 40 - 862 Mhz




Available Channels: ch 1 - 69




Antenna Gain: 17 - 23 dB




Input Impedance: 75 Ohm




Connector: F-Type




Effective Reception Distance (KM): 100



Standard shipping rate does not cover northern parts of Ontario (i.e. Thunder Bay and surrounding cities or town), extra shipping charge will be applied.