EyeONet 2147B 700TV Line Mini Dome Camera Indoor/Outdoor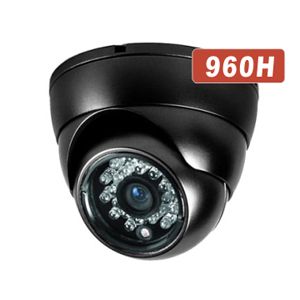 EyeONet 2147B 700TV Line Mini Dome Camera Indoor/Outdoor
Ontario Environmental Handling Fee --- $5.00
Element: 1/3" SONY CCD SUPER HAD II
Effective Picture Elements (H*V): 1028(H) x 508(V)
Horizontal Resolution: 700TV Lines
S/N Ratio: More than 48dB
Clock Freq. (MHz): 28636,
Scanning System: 2:1 Interlace
Mini. Illumination: 0 Lux (with IR LED ON)
Synchronous System: Internal, Negative Synchronous
Auto Electronic: 1/60s~1/100000s
Gama: 0.45
IR: 24 PCS IR LEDs
Video Output: 1Vpp, 75 Ohm
AGC: Auto
Power: 12VDC(+/-10%), 400mA
Lens: 3.6mm Lens
Storage Temp: -30~+60 Degree
Operating Temp: -10~+45 Degree
Warranty: 1 Yr. Limited
Standard shipping rate does not cover northern parts of Ontario (i.e. Thunder Bay and surrounding cities or town), extra shipping charge will be applied.