FOCUS 360 Degree Adjustable 8-Bay Multi-Directional (45-80+ mi/70-130+ km)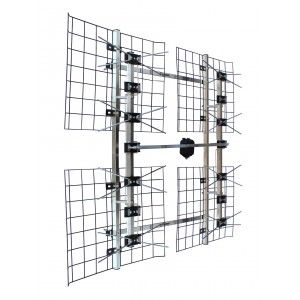 FOCUS 360 Degree Adjustable 8-Bay Multi-Directional (45-80+ mi/70-130+ km)
This 360-Degree Adjustable 8-Bay Multi-Directional (45-80+ mi/70-130+ km) outdoor digital Antenna. With strong performance across (channels 2-69) best for UHF spectrum (21-69) and versatile high gain multi-bay antenna. The efficient design allows tremendous gain in a compact size and resist extreme wind loading.
Works great in attics.
No. of Elements: 8




Frequency Range : 470-862MHz




Channels: Ch. 21-69




Antenna Gain: 20-36dB




Beam Width H/V: H 60/ V32




Front-back Ratio: 22 dB




Impedance: 75Ω




Antenna Length: 840mm



Standard shipping rate does not cover northern parts of Ontario (i.e. Thunder Bay and surrounding cities or town), extra shipping charge will be applied.