HP EliteBook 840 G1 - Intel Core 5 4310U - Refurbished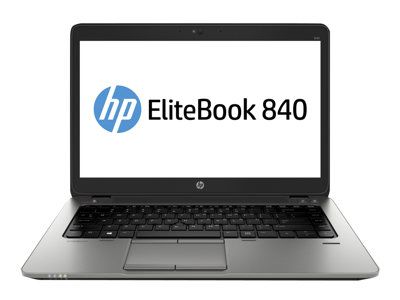 HP EliteBook 840 G1 - Intel Core 5 4310U - Refurbished
Employees can hit the road with a travel pro. The HP EliteBook 840 G1 industry leading notebooks are ultra-productive in and out of the office. Work with confidence thanks to proven enterprise technologies and enterprise security, performance and management features that will meet all your business needs.
Product Features
Sleek and sturdy
It is time for an upgrade to the dramatically thin, light design of the HP EliteBook 840 G1 notebooks with a luxurious and soft touch finish. Join forces with the Intel architecture and operate at peak performance levels with Intel Smart Response technology for disk cache.
It is all about the connections
Exercise full control over your wireless connections through a single user interface with support for most networks. Easily share your Internet connection with up to five devices with HP Wireless Hotspot. Help colleagues get online and improve productivity.
Solid security
Stay up and running. HP BIOS Protection offers enhanced protection against virus attacks to the BIOS and other security threats, and is designed to help prevent data loss and reduce downtime.
Road ready
Never fear accidental bumps and minor spills. HP EliteBooks undergo challenging tests so you do not have to. During the HP Total Test Process, PCs experience 115000 hours of performance trials to ensure they can withstand rigorous work environments.
Product Features:
Refurbished
 Processor: Intel Core i5-4310u@2.0GHz
 Memory: 8GB
 Storage: 180GB SSD
 Optical: No
Display: 14.1" 1366 x 768
Webcam: Yes
Wireless: Yes
Bluetooth: Yes
Operating System: Windows 10 Professional 64 Bits
Warranty: 1 Yr. Warranty, 30 Days Battery Warranty