iLUV Mo'Beats HD Portable Bluetooth Speaker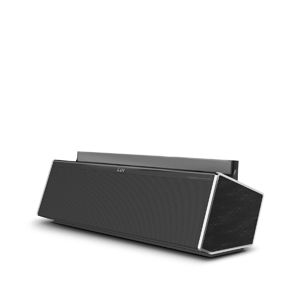 iLUV Mo'Beats HD Portable Bluetooth Speaker
Get the most out of your tablet! With Mo'Beats HD, you can turn your tablet into an entertainment center for yourself and your friends. Turn on a movie and enjoy a cinematic experience with speakers enhanced by jAura technology. Get the party started and let your friends stream their favorite songs directly from their smartphones. Don't compromise for less when you can have so much more.
Orchestral Sound with jAura Technology
Mo'Beats HD was built to amaze even the most discerning audience. Equipped with stereo enhancement technology called jAura, these speakers deliver better sound than typical speakers. This technology, combined with twin full-range speakers and a passive bass radiator, creates a device that won't fail to impress.
Keep the Party Going with NFC Technology
Mo'Beats HD is the perfect party companion because it's lightweight, portable, and Bluetooth-enabled with NFC assist. NFC allows you and your friends to effortlessly and instantly stream music through Mo'Beats HD through a simple tap and pair procedure. Share your music and spread the fun; Mo'Beats HD makes that possible.
Indulge in a Cinematic Experience
Elegantly designed with an eye towards functionality, Mo'Beats HD features a rubberized cradle that supports your tablet in either landscape or portrait mode. It's the perfect arrangement for watching movies or videos without compromising the sound area created by the speakers.
Engage in Enhanced Gaming
With Bluetooth streaming, there's no excuse for an average gaming experience. Entertain yourself for hours on end with your tablet while streaming high-fidelity sound through Mo'Beats HD. jAura technology lets you truly immerse yourself in the sound environment of your choosing.
Features:
Impressive, high-fidelity sound with jAura technology
Stream music and sound wirelessly via Bluetooth from up to 30 feet away
Easy One Touch NFC pairing; Lightly touch your phone against Mo'Beats HD to pair
Rechargeable lithium-ion battery eliminates the need to change the batteries
Universal cradle accommodates all mobile devices in landscape or portrait mode
Voice prompt for ease of use
Auxiliary input port for a direct connection to other audio devices
Dimensions: W11 x H2.95 x D2.83 in

Weight: 1.7 lb
Compatibility: Most Bluetooth-enabled devices with X3 MOV
Warranty: 60 Days
Standard shipping rate does not cover northern parts of Ontario (i.e. Thunder Bay and surrounding cities or town), extra shipping charge will be applied.