iLUV SyrenPro Weather-resistant outdoor wireless Bluetooth® speaker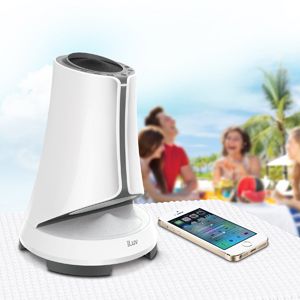 iLUV SyrenPro Weather-resistant outdoor wireless Bluetooth® speaker
Experience the benefits of TrueWireless Stereo™, which lets you create your own stereo system wirelessly using two SyrenPro® speakers. This outdoor weather-resistant Bluetooth® speaker combines superior jAura® acoustics and unique design elements for a completely stunning sound. It's perfect for your outdoor party.
Incredible Sound
Need big sound from a portable speaker? Look no further than SyrenPro®. Equipped with jAura® sound enhancement technology, SyrenPro® provides a perfect balance of high, middle and low range frequencies. It has a 3" co-axial speaker that delivers powerful, high fidelity sound capable of filling rooms and outdoor areas.
Two Power Options
With two power options, you can play music from SyrenPro® however you want. Plug SyrenPro® into an electrical outlet or go wireless and take your music with you anywhere you go. A rechargeable battery provides up to four hours of playtime, so you can enjoy your music even if the speaker isn't plugged in.
Get Bigger Sound with TrueWireless Stereo™
SyrenPro® is a great-sounding speaker, but you can get even bigger sound when you connect it to a second SyrenPro®. The TrueWireless Stereo™ feature allows you to wirelessly pair two SyrenPro® units to create a full stereo system. Now when you stream music from your phone, both speakers will play, providing an immensely rich and clear soundscape.
Weather-Resistant Design
Take SyrenPro® to your next outdoor event. Its UV- and splash-resistant coating protects it from exposure to the elements. Whether you're having a pool party or hanging out at the beach, SyrenPro® is the perfect speaker to bring with you.
Features:
True wireless feature – connect SyrenPro® to a second unit wirelessly to create a stereo system




Incredible 360° sound




Weather/UV resistant




Voice prompt for quick and convenient pairing




3" co-axial speaker




Rechargeable battery for 4 hours of playtime




Aux-in to connect to other devices



Contents:
AC Adapter, Quick Start Guide, Warranty Card
Specification:
Dimensions: 8.35in(W) x 11.61in(H) x 8.35in(D)
Weight: 4.18 lbs
Compatibility: Apple® and Android™ smartphones and tablets, most Bluetooth® devices
Warranty: 60 Days
Standard shipping rate does not cover northern parts of Ontario (i.e. Thunder Bay and surrounding cities or town), extra shipping charge will be applied.