Intel Core i7 4770K Quad-Core 3.5GHz FCLGA1150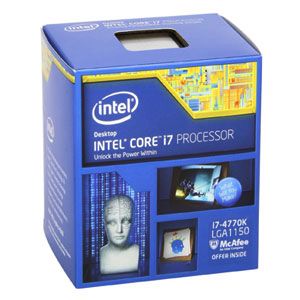 Intel Core i7 4770K Quad-Core 3.5GHz FCLGA1150
Intel Core i7-4770K 3.5 GHz Processor is equipped with 4 cores and 8 threads and can be installed in the LGA1150 socket. It delivers an improved automatic performance, thanks to its Intel Turbo Boot 2.0 Technology. This gives system builders the freedom to set their computers the way they want by overclocking the processor's original speed of 3.5 GHz to up to 3.9 GHz. The Intel Core i7-4770 Processor has Intel HD Graphics 4000 Technology integrated into it. It also comes with Intel Clear Video HD Technology to handle high definition playback with ease.
Type: Desktop
Socket: Intel FCLGA1150
Model: Core i7 4770K
No. Of Cores: 4
No. Of Threads: 8
Clock Speed: 3.5GHz
Cache Size: 6M
Thermal Design Power: 84W
Manufacturing Processes: 22nm
Memory Types: DDR3
Graphic Processor: Intel HD 4600 Graphic
Warranty: 3 Year Intel Warranty
Standard shipping rate does not cover northern parts of Ontario (i.e. Thunder Bay and surrounding cities or town), extra shipping charge will be applied.