InWin Fanqua SECC Steel Gaming ATX Mid Tower Case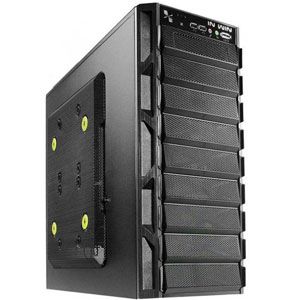 InWin Fanqua SECC Steel Gaming ATX Mid Tower Case
SECC Steel (0.6mm ) ATX Mid Tower




USB / Audio / e-SATA Front Ports




5 or 2 External 5.25" Drive Bays




3 or 6 Internal 3.5" Drive Bays



Type: ATX Mid Tower
Colour: Black
Case Material: SECC Steel (0.6mm)
With Power Supply: No
Power Supply Mounted: Bottom
Motherboard Compatibility: Micro ATX / ATX
Side Panel Window: No
Expansion
External 5.25" Drive Bays x 5 or 2
External 3.5" Drive Bays x1(Converted from one 5.25" drive bay)
Internal 3.5" Drive Bays x 3 or 6
Expansion Slots: 7
Front Ports:
USB / Audio / e-SATA
Cooling System:
1 x 120mm front fan
1 x 120mm top fan
1 x 120mm rear fan
1 x 220mm side LED fan with LED switch
Dimensions (H x W x D): 18.90" x 8.86" x 17.95"
Features:
Excellent Thermal Solution.
- The Fanqua gaming chassis utilizes a 22cm side panel fan to accelerate air through and out of the chassis to keep components cool. The vented bezels on the front panel, a ventilated floor panel, and a top vent with a 12cm fan provide the optimal airflow on both intake and exhaust.
Advanced appearance.
- Its unique dark metallic paint and the bright stunning light on the huge fan satisfy all pompous PC enthusiasts.
Tool-Free Mechanical Design.
- Screw-less I/O expansion slots make assembling a fun, easy, and enjoyable experience.
Dust-proof meshes.
- The air filter meshes are built into the front bezel, side panel, top panel, and floor which keep out the dust and extend the life of components.
Bottom-Mounted PSU VS. Vent Holes.
- Bottom-mounted PSU design with independent air ventilation hole.
Standard shipping rate does not cover northern parts of Ontario (i.e. Thunder Bay and surrounding cities or town), extra shipping charge will be applied.