LaCie Porsche Design P'9230 3TB USB 3.0 3.5" External Hard Drive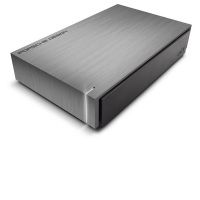 LaCie Porsche Design P'9230 3TB USB 3.0 3.5" External Hard Drive
Main Features

Hard drive
3 TB
external ( desktop )
USB 3.0

The LaCie Porsche Design P'9230 is a breed of desktop hard drive, a perfect blend of form and function. It's the product of collaboration between one of the most renowned design firms in the world and LaCie. The P'9230 lets you transfer files faster than ever with USB 3.0 performance, and has the capacity to hold all of your files. It also features a striking LED that both indicates power and lends sophisticated elegance.

LaCie first joined forces with Porsche design in 2003 to produce one of the most iconic and enduringly popular external hard drives on the market. Since then the two companies have worked closely to create products that blend flawless functionality with pure design. The luxury brand and the leading technology company complement each other, with technical influence from LaCie, together with an exclusive and timeless shape presented by Porsche Design.

With the P'9230's USB 3.0 interface, you'll be able to get the job done faster than you ever imagined-you can transfer a 700 MB video file in just under 7 seconds! With USB 3.0 speed, you can back up your photos, videos, and music files, and even quickly exchange them with friends or colleagues-with minimal wait time.

The P'9230 protects your files with 5 mm of aluminum casing surrounding the drive inside. This solid armor protects your data, gives the drive sophisticated substance, and even helps to dissipate heat. These properties help to protect the hard disk and prolong its lifespan. LaCie and Porsche design worked together to combine form and function-resulting in a desktop hard drive that looks great on your desk.