Lenovo Flex 3 15 Notebook 80JM001MUS (Special Order)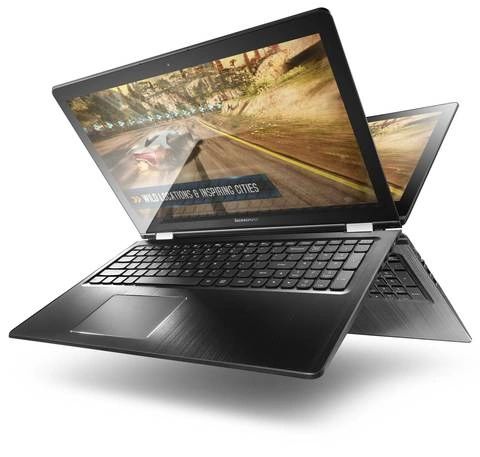 Lenovo Flex 3 15 Notebook 80JM001MUS (Special Order)
Meet the new Lenovo Flex - a device that doesn't stop at just two modes. Now more adaptable than ever before, Lenovo Flex 3 can flip around 360-degrees so that you can enjoy in one of four modes: Laptop, Stand, Tent, and Tablet. It's the affordable way to power your media from multiple angles.
PACKED WITH ENTERTAINMENTFlex 3 is built to keep you entertained - however you like and wherever you are. With a vibrant multitouch display, you can play and interact with your content in exciting new ways. And, powerful speakers backed by Dolby® Home Theater® technology deliver rich sound when it's time to kick back in front of the latest series.PERFORMANCE FOR WORK OR PLAYWant to fire up a game between flights? Maybe you need to finalize a big presentation. With the new 5th Gen Intel® Core™ i Series processors, you have more power to play, create, entertain, or just keep up with your day-to-day.
ULTRA-THIN, LIGHT & PORTABLEFlex 3 starts at 5lbs., and it's even under an inch thick. So, in a word: ultraportable. That means it easily goes where you go. And with up to 8 hours of productive use on a single charge, the Flex 3 will keep pace with you through the day.
ADAPTS TO HOW YOU DODid we mention the four modes? Flex 3 isn't just another affordable laptop, it's one that you can use in more than just one way. Flip the display around flat to its base and enjoy as a Tablet, or stand it up in Tent or Stand modes to enjoy video or games from a more comfortable angle. Plus, Flex 3 flexes a bit of brain muscle too by intuitively optimizing settings and making app recommendations based on what mode you're in.
Lenovo Flex 3 15 Notebook 80JM001MUS
- 15.6" Touch (1366x768) Intel i5-5200U(2.20GHz) 4GB 500GB HDD
- Intel HD Graphics 5500 BT W8.1P 64-bit
Model 80JM001MUS
Operating System Windows 8.1
Type Consumer Notebooks
Processor Intel Core i5-5200U 2.2 GHz
Standard Memory 4GB
Memory Expansion 8GB
Hard Drive 500GB HDD
Optical Drive No
Display Size 15.6"
Display Technology HD (1366x768)
Touch Screen YES
Graphics Intel HD Graphics 5500
Wireless 802.11ac Wireless LAN
Bluetooth Bluetooth 4.0
Webcam Yes
HDMI 1 x HDMI
USB 2 x USB 3.0; 1 x USB 2.0
Audio Dolby Home Theater Audio
Keyboard English Accutype Non-backlit
Fingerprint Reader NO
Battery 3-Cell, Embedded Lithium Polymer, 45Wh
Color Black
Dimensions 15.16" x 10.04" x 0.87"
Weight 4.62 lbs
Warranty 1 YEAR