Logitech Z200 2.0 Speaker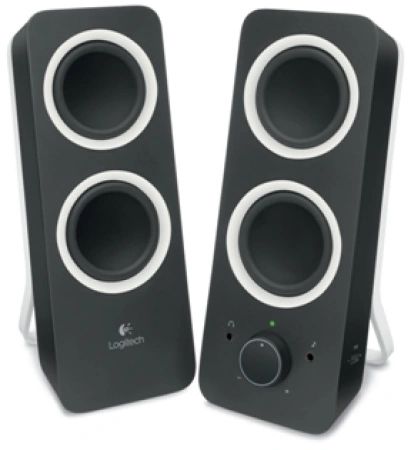 Logitech Z200 2.0 Speaker
Note: Ontario Environmental Handling Fee for this item is $5
Boost the audio from your computer, tablet or smartphone with the Logitech Z200 multimedia speakers. These two speakers are each equipped with a 2.5" driver for room-filling sound for your movies, music and games. With volume and bass controls built-in, it's easy to get your perfect mix of sound.
More Information
Two 2.5" drivers deliver a total of 10 watts of rich stereo sound and deep bass
3.5mm audio input and auxiliary line let you play tunes from multiple devices at the same time
Built-in power and volume controls on the front and bass control at the side make it quick and easy to fine-tune your audio
Headphone jack lets you plug in your headphones for your own private listening session
Total System Power: 10 W
Total Satellite Power: 5 W
Driver Size (Per Satellite): 2.5 in
Frequency Response: 120 Hz - 20 kHz
Volume Control: Yes
Headphone Jack: Yes
Microphone Jack: No
Treble and Bass Control: No
Inputs: 3.5 mm Jack
Dimensions: (W)11.6 cm x (H) 23.7 cm x (D) 9.1 cm
Weight: 1 kg
Warranty: 2 Years by Logitech
Standard shipping rate does not cover northern parts of Ontario (i.e. Thunder Bay and surrounding cities or town), extra shipping charge will be applied.