Microsoft Windows 8.1 64 Bit (OEM)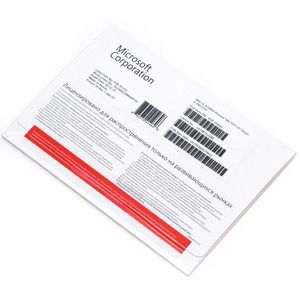 Microsoft Windows 8.1 64 Bit (OEM)
Sales Condition: Must be purchased with system or qualifying hardware.
The 64-bit Windows 8.1 OEM System Builder DVD from Microsoft brings the return of the Start button. While it is not quite the Start Menu from Windows 7, it still adds more functionality to the desktop. Right-click on the Start button to open up a menu with several options, such as Control Panel, Network Connections, Task Manager and more. For access to programs, a simple left click on the Start button will bring you to the redesigned Start screen introduced in Windows 8.1. Here, you can resize tiles to your preference.
You also have more ways to see multiple apps at a time. When displaying multiple apps at once, you can resize the width of the app window to suit your needs. Depending on screen size and resolution, you can even share the screen with up to four apps at a time. Windows 8.1 also allows you to boot directly to the desktop screen instead of the Start screen. This allows you to get right to work as soon as you boot your computer.
Cloud connectivity is another major feature found in Windows 8.1. Simply set up a Microsoft account, and you can access and manage various aspects of your account from any Windows 8.1 device. Utilize the Mail and Messaging apps to keep in touch with friends, family, and co-workers by linking to other social networking accounts such as Facebook and Twitter. You can also take advantage of Microsoft SkyDrive to upload your files.
Along with cloud connectivity, apps help make Windows 8.1 stand alone as an intuitive, customizable operating system. SkyDrive, Xbox, Video, Music, Mail, Calendar, Photos, People, Messaging and Reader make up the apps that come standard with Windows 8.1. Each of these apps helps you to get the most out of your Windows experience.
With SkyDrive, you can access files virtually anywhere on a Windows 8.1 device. The Xbox, Video and Music apps enhance your multimedia experience helping to streamline your music, video, and games access across multiple devices including the Xbox 360. Mail, Calendar, People, and Messaging apps keep you in touch with friends and family while keeping you on schedule. Place all of your photos in one place with the Photo app, making it possible to see your photos on any Windows 8.1 device. The Reader app makes it possible to read a variety of different documents in PDF, XPS, and OXPS file formats. These are only some of the apps that Windows 8.1 provides.
1 PC

OEM




DVD




64-bit




PN: WN7-00615



*** No refund or exchange for software
Note: Standard shipping does not cover northern parts of Ontario (i.e. Thunder Bay and surrounding cities or town), extra charge will be applied.