MINIX NEO Z64W Fanless Mini PC Windows 8.1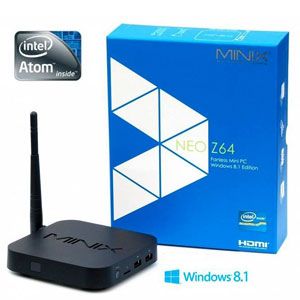 MINIX NEO Z64W Fanless Mini PC Windows 8.1
NEO Z64 Fanless Mini PC Windows 8.1 Edition is an ultra-compact mini desktop PC with huge possibilities. NEO Z64 redefines the desktop PC, with its minute form factor making it one of the world's smallest desktop PCs that allows for an array of space saving options. Whether it's a huge TV for enhanced viewing or a 15" LCD monitor suitable for tight spaces, the NEO Z64 can be discreetly placed out of sight. Plus, the eco-friendly NEO Z64 requires 80% less energy than traditional desktop PCs. As a space-saving, energy-efficient Mini PC, MINIX NEO Z64 is simply unbeatable.
OS: Windows 8.1
CPU: Intel Z3735F (64-bit) Quad-core
GPU: Intel HD Graphics
RAM: 2GB DDR3
Storage: 32GB eMMC
Ethernet: 10/100Mbps
Wireless: 802.11n WiFi, Bluetooth 4.0
Video: HDMI 1.4
Audio: HDMI, 3.5mm Audio Out
Warranty: 1 Year Minix Warranty
Standard shipping rate does not cover northern parts of Ontario (i.e. Thunder Bay and surrounding cities or town), extra shipping charge will be applied.