Philips BTM2180 Micro Music System - Refurbished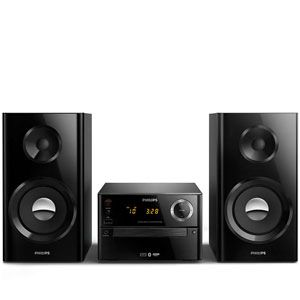 Philips BTM2180 Micro Music System - Refurbished
RICH AND POWER SOUND: Listen to all your digital music from your Smartphone via Bluetooth. This Philips Micro system also plays MP3-CD and CD-R/RW, and features Bass Reflex speakers for powerful and dramatic bass.
Wireless music streaming via Bluetooth: Bluetooth is a short range wireless communication technology that is both robust and energy-efficient. The technology allows easy wireless connection to iPod/iPhone/iPad or other Bluetooth devices, such as smartphones, tablets or even laptops. So you can enjoy your favorite music, sound from video or game wireless on this speaker easily.
Bass Reflex Speaker System delivers a powerful, deeper bass: Bass Reflex Speaker System delivers a deep bass experience from a compact loudspeaker box system. It differs from a conventional loudspeaker box system in the addition of a bass pipe that is acoustically aligned to the woofer to optimize the low frequency roll-off of the system. The result is deeper controlled bass and lower distortion. The system works by resonating the air mass in the bass pipe to vibrate like a conventional woofer. Combined with the response of the woofer, the system extends the overall low frequency sounds to create a whole new dimension of deep bass.
igital tuning with preset stations for extra convenience: Simply tune into the station that you want to preset, press and hold the preset button to memorize the frequency. With preset radio stations that can be stored, you can quickly access your favorite radio station without having to manually tune the frequencies each time.
USB Direct for easy MP3 music playback: Thanks to the complete file transferability, you can easily enjoy the convenience and fun of accessing more digital music via the built-in USB Direct.
Dimensions:
Main Unit width: 180mm, Main unit height: 119mm, Main unit depth: 220.4mm
Main speaker width: 140mm, Main speaker height: 260mm, Main speaker depth: 185mm
Weight: 5.74kg
Warranty: Refurbished - 90 Days By Philips
Standard shipping rate does not cover northern parts of Ontario (i.e. Thunder Bay and surrounding cities or town), extra shipping charge will be applied.