PQI 16gb Personal Portable Wireless Storage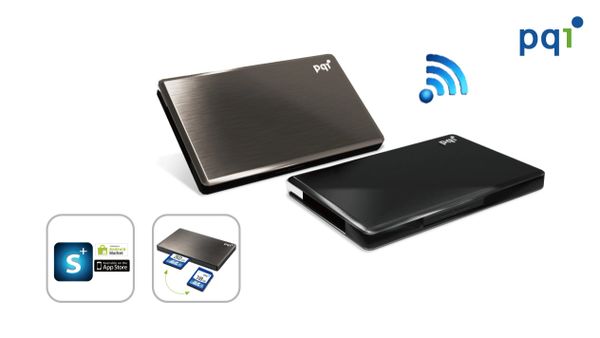 PQI 16gb Personal Portable Wireless Storage
Price included $0.75 Environmental Handling Fee for Ontario
The PQI Air Drive Personal Portable Wirless Storage device supports up to five simultaneous connections using different types of media files including your favorite photos, music, videos, or documents. With the Air Drive, you can easily share your life with your friends and family and enjoy the convenience of a wireless life.
Thee size of a credit card and only 8mm thin, the Air Drive is the slimmest and lightest portable wireless storage device on the market. Fully charged, it is capable of five hours of continuous multimedia playback.
• Capacity: supports SD/SDHC Card (up to 32GB)
• Interface: USB2.0 IEEE 802.11b/g/n
• Operating system supported: iOS/Android (iOS 4.0 or later/Android 2.1 or later are recommended)
• Power supply: Li-polymer
• Applications: S+ Flash lets you enjoy the convenience of wireless transfers by simply turning the Air Drive on
• Built-in wireless encryption technology allows you to set a personal password, which ensures that your data is secure
• Built-in USB cable saves you the trouble of bringing another cable
• Weight: 55g (0.12 lb)
• Dimensions: 85 x 54 x 8 mm (3.35" x 2.13" x 0.31")
Includes:
• PQI Air Drive 16GB Personal Portable Wireless Storage
Warranty Information:
This product comes with a 1-year warranty through the manufacturer.