SanDisk Extreme 16G Flash Drive USB 3.0 (SDCZ80-016G-C46)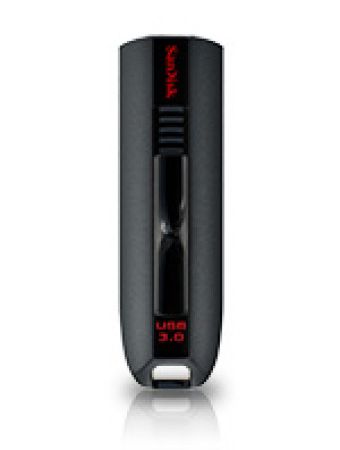 SanDisk Extreme 16G Flash Drive USB 3.0 (SDCZ80-016G-C46)
Outfitted with our latest flash memory technology, the SanDisk Extreme 3.0 USB Flash Drive dramatically reduces the time you'll spend waiting for files to transfer. This chart shows, by capacity, just how fast this flash drive is.
Available capacities: 16GB, 32GB and 64GB
Performance/speed: Up to 245 MB/s** ; write speed lower and varies by capacity.
Dimensions: 2.79" x .84" x .45" (70.87 mm x 21.34 mm x 11.43 mm)
Write up to 12 times faster than USB 2.0 drives**
Transfer a full-length movie in less than 30 seconds**
Brand SanDisk
Series Extreme
Model SDCZ80-016G-C46
Interface USB 3.0
Capacity 16GB
Features
Available capacities: 16GB, 32GB and 64GB
Dimensions: 2.79" x .84" x .45" (70.87 mm x 21.34 mm x 11.43 mm)
Operating temperature: 0ºC to 45 ºC
Storage temperature: -10ºC to 70ºC
Compatibility: USB 3.0 and 2.0
Security: Password protection and 128-bit AES encryption
Support: Two year limited warranty
SanDisk® SecureAccess™ software: Windows® XP, Windows Vista®, Windows® 7 and Mac OS X v10.5+ (Mac software requires download, see the SanDisk SecureAccess page.). Linux: storage only