SecurLink 50FT. Siamese Cable for CCTV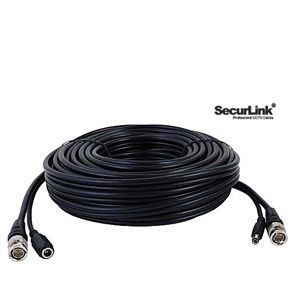 SecurLink 50FT. Siamese Cable for CCTV
This unique Siamese RG59 BNC / CCTV Power Cable is designed for security cameras; a single Siamese cable solution to providing Power to the Camera, and sending Video back to your CCTV Controller.
The Power Cable on this Siamese Cable sends electrical power (AC/DC depending on your Security System and Camera) to power a CCTV Security Camera.
The RG59 half of this Siamese Cable is traditional Coaxial Cable with BNC ends pre-installed. It sends the video signal from the Surveillance Camera back to your security system.
Cable Type:

Siamese RG59 Coaxial / Power Cable for CCTV Cameras




Cable Color:

Black




Impedance:

RG59: 75 ohm Standard




Cable Length:

50 feet



Standard shipping rate does not cover northern parts of Ontario (i.e. Thunder Bay and surrounding cities or town), extra shipping charge will be applied.