Seike SE20HS04 20" 720P LED HDTV - Refurbished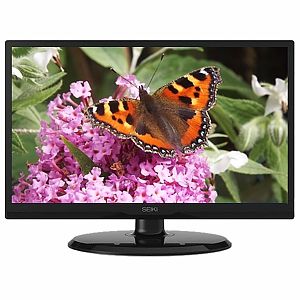 Seike SE20HS04 20" 720P LED HDTV - Refurbished
The Seiki 20" 720p LED HDTV is a Great Addition to Your Home If you are looking to add a second or even third television to your home, you can't do much better than the Seiko LED HDTV . The high def television delivers an amazing picture quality, a refresh rate of 60 Hz, and digital/analog channel auto tuning. You can connect with both USB and HDMI inputs and the HDMI inputs support 480I, 576I, 480p, 576p, 720p, 1080I and 1080p resolutions.
The Seiki LED HDTV makes a great second television for your bedroom, kitchen or den
Great picture quality with High Def, 720p resolution
Refresh rate of 60 Hz
Two speakers and built-in video noise reduction
Auto tuning for digital/analog
USB and HDMI inputs allow you to connect gadgets
Integrated stereo mini phone jack input and RCA input
Headphone jack
Slim profile and weighs less than 6 lbs.
Display: 20" Class LED backlit LCD, 720p (1366 x 768)
Refresh Rate: 60Hz
Contrast Ratio: 3,000:1
Brightness: 230cd/m2
Tuner Type: ATSC/NTSC (digital/analog)
Connections: Digital Audio Output (Optical), PC Input, Composite Video Input, Audio Input, 1 x HDMI Input, 1 x USB.
Dimensions: 18.8" x 6.3" x 13.3"
Warranty: Refurbished – 60 Days Warranty
Standard shipping rate does not cover northern parts of Ontario (i.e. Thunder Bay and surrounding cities or town), extra shipping charge will be applied.