Startech USB 3.0 to SATA HDD Duplicator/Dock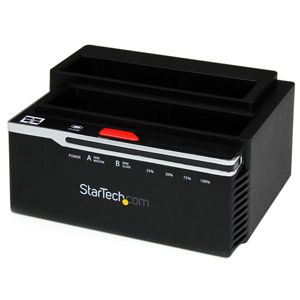 Startech USB 3.0 to SATA HDD Duplicator/Dock
Standalone Sector by Sector copying including the HPA




SuperSpeed USB 3.0 host interface, with support for data transfer rates up to 5 Gbps




Supports 2.5in or 3.5in form factor hard drives (HDD) or solid state drives (SSD)



The SATDOCK22RU3 USB 3.0 to SATA Hard Drive Duplicator Dock can be used as a standalone SATA hard drive duplicator, or as a USB 3.0 SATA hard drive docking station, enabling you to duplicate/clone an existing hard drive without the use of a host computer system or access docked hard drives as though they were installed within the computer system.
In Duplicator Mode, it creates an exact 1-to-1 sector clone from one hard drive to another, including partition and boot sector information and all data, at a rate of ~72MB/second, ensuring data integrity and consistency for sensitive operations (data recovery, etc.).
In Dock Mode, it can be connected to your host computer through USB 3.0, supporting up to 5 Gbps of bandwidth from both hard drives to your computer system. Large capacity drives (tested with up to 4TB 3.5" and 1TB 2.5" drives per bay) can be used to greatly enhance your computer's storage/backup capabilities.
The value of this hard drive docking station can be further extended through a SATA to IDE hard drive adapter (SAT2IDEADP), which enables you to use any 2.5 or 3.5in IDE hard drive in a SATA hard drive dock slot.
Standard shipping rate does not cover northern parts of Ontario (i.e. Thunder Bay and surrounding cities or town), extra shipping charge will be applied.