TP-LINK TD-W8980 Wireless Dual Band Gigabit ADSL2+ Modem Router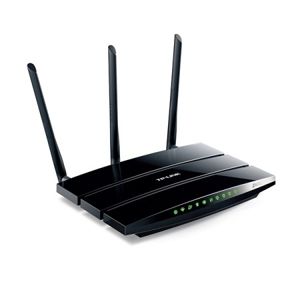 TP-LINK TD-W8980 Wireless Dual Band Gigabit ADSL2+ Modem Router
All-in-One Device: ADSL2+ Modem, NAT Router, 4-Gigabit-Port Switch and Wireless N Access Point




Simultaneous 2.4GHz 300Mbps and 5GHz 300Mbps connections for 600Mbps of total available bandwidth




Versatile Connectivity: ADSL or Ethernet WAN for multiple Internet connection types




2 USB ports for storage sharing, printer sharing, FTP Server and Media Server



TP-LINK's N600 Wireless Dual Band Gigabit ADSL2+ Modem Router TD-W8980 is an incredibly robust all-in-one device combining the crystal clear 5GHz band and the traditional 2.4GHz band. With 600Mbps of total bandwidth, simple tasks like sending e-mails can be handled by the 2.4GHz band while bandwidth intensive tasks like online gaming or HD video streaming can be processed by the 5GHz band - all at the same time. Its all gigabit ports allow users to access high-speed internet connections and share them wirelessly at blazing 300Mbps wireless speeds or by using one of its 4 gigabit LAN ports. With 2 multifunctional USB ports, users can share printers, files and media across the local network or the internet. What's more, this All-in-one device allows for two different connection types: ADSL, or Ethernet WAN, giving users the flexibility to access the Internet whichever method is most convenient.
Standard shipping
rate does not cover northern parts of Ontario (i.e. Thunder Bay and surrounding

cities or town), extra shipping charge will be applied.