TP-Link UH400 USB 3.0 4-Port Portable Hub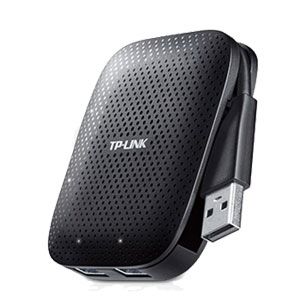 TP-Link UH400 USB 3.0 4-Port Portable Hub
The UH400 is your one-stop USB 3.0 hub, connecting all of your portable devices to a lightning fast data highway that is capable of reaching transfer speeds of up to 5Gbps, making it 10 times faster than the USB 2.0 standard. Users can simultaneously plug in and run up to 4 USB-based devices such as USB flash drives, mice, printers, external hard drives, smart phone charging/syncing cables and so much more.
Our USB 3.0 hub gives users the freedom to connect up to 4 devices at a time. This extends the number of USB ports available to users using laptops or computers with a limited number of ports. Users can also choose to connect multiple hubs to one another to further increase their connectivity options.
Connect up to 4 devices at a time
Data transfer speed 10 times faster
Ultra compact design
Built-in USB connector cable
No driver required
Note: Does not require drivers for Windows 10/ 8.1 / 8 / 7 / Vista / XP or Mac OS X and Linux systems. Backward compatible with USB 2.0/1.1 and the actual transmission speed is limited by the setting of the device connected.
Standard shipping rate does not cover northern parts of Ontario (i.e. Thunder Bay and surrounding cities or town), extra shipping charge will be applied.