TP-Link WR941ND Wireless N 300MBps Router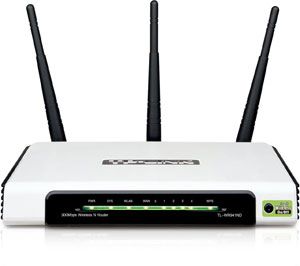 TP-Link WR941ND Wireless N 300MBps Router
Equipped with 3 antennas, users can create a high speed wireless network and up to 18X the speed and 6X the range of conventional 11g products. It shows more excellent abilities of mitigating data loss over long distances and through obstacles in a small office or a large apartment, even in a steel-and-concrete building. Above all, you could easily pick up the wireless network during long-distance connection where legacy 11g products may not!
The router has the speed to work smoothly with almost any bandwidth intensive application including VoIP, HD streaming, or online gaming, without the lag. Using its powerful N technologies, the router is also able to mitigate data loss over long distances and through obstacles turning your home and even your yard into one big hot - spot.
Supports PPPoE, Dynamic IP, and static IP broadband functions Automatic dialing, On-demand dialing, detachable time dialing, filling most dialing requirements




Standards, IEEE 802.11n, IEEE 802.11g, IEEE 802.11b Interface, 4x 10/100 LAN Ports, 1x 10/100 WAN Ports Antenna, 3x 3dBi Detachable Omni Directional Antenna




Frequency Range, 2.4-2.4835GHz Wireless Transmit Power, 20dBm(max. EIRP) Modulation Technology, DBPSK, DQPSK, CCK, OFDM, 16-QAM, 64-QAM




Receiver Sensitivity,270M,68dBm@10Percent PER 130M,68dBm@10Percent PER 108M,68dBm@10Percent PER




2 Year TP-Link Warranty



Standard shipping rate does not cover northern parts of Ontario (i.e. Thunder Bay and surrounding cities or town), extra shipping charge will be applied.