Tygclaw LCD8217BLK Double Layer DVD Shelf (Special Order)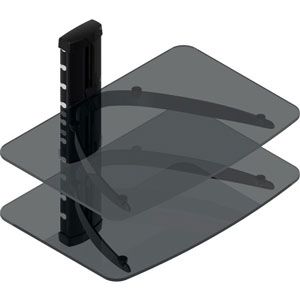 Tygclaw LCD8217BLK Double Layer DVD Shelf (Special Order)
Capable of supporting your DVD or receiver, the TygerClaw LCD8217BLK Double Layer DVD Shelf Stand offers a sleek appearence to complement any TV setup. The wall mounting shelf has 2 black glasses and each layer allows to hold 22lbs/10kgs of weight. The shelf stand is constructed of aluminum material with adjustable height for total support and durability. Also has a cable management system to organize those messy cables and wires.
Double Layers DVD Stand with 2 black glasses
Allows to hold 22lbs/10kgs of weight for each layer
Adjustable height
Aluminum material Construction
Cable management system available
Quick and Easy installation
Standard shipping rate does not cover northern parts of Ontario (i.e. Thunder Bay and surrounding cities or town), extra shipping charge will be applied.