Vantec NexStar CX 2.5" SATA to USB2.0 Enclosure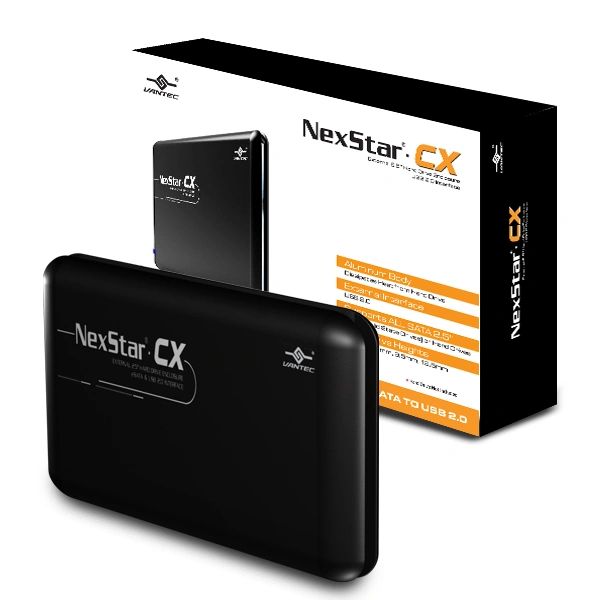 Vantec NexStar CX 2.5" SATA to USB2.0 Enclosure
Vantec introduces its NexStar CX 2.5" External Hard Drive Enclosure. Ideal for anyone in need of portable storage, the NexStar's slim pocket design makes it a convenient way to carry your data. The NexStar CX turns any SATA 2.5" Hard Drive into a convenient hard drive that can be used on any system with a USB port. In addition, the aluminum casing protects the drive from overheating and vibration. The NexStar CX supports USB 1.1 and USB 2.0 to offer fast transfer speeds of up to 480MBPS. The Vantec NexStar CX 2.5" External Hard Drive Enclosure is great for anyone who requires a high performance, lightweight, and durable portable storage solution.
Feature
Supports ALL 2.5" SATA I/II /III HDD/SSD (Height supported 7mm, 9.5mm, 12.5mm)




Aluminum Casing Cools Down Your Hard Drive




Transfer Rates Up to 480Mbps w/USB 2.0




Easily Add Storage to Any System with USB




Hot-Swappable:

Plug & Play Without Rebooting




Attractive Blue LED Indicates Power & HDD Activity



Specifications
Model:

NST-200S2-BK




Device Support: SATA I/II/III (SSD, Hard Drive)




Device Size: 2.5" (7mm, 9.5mm, 12.5mm)




Internal Interface: SATA




External Interface: USB 2.0




HD Capacity:

Up to 2TB*




Material: Aluminum




Dimension: 143 x 84 x 17 mm




Warranty: 90 Day Vantec Warranty



Standard shipping rate does not cover northern parts of Ontario (i.e. Thunder Bay and surrounding cities or town), extra shipping charge will be applied.