Vantec NexStar TX 2.5" SATA to USB2.0 Enclosure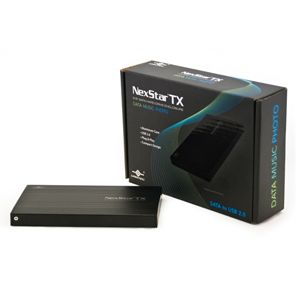 Vantec NexStar TX 2.5" SATA to USB2.0 Enclosure
Vantec introduces its NexStar® TX 2.5 External Hard Drive Enclosure. Ideal for anyone in need of portable storage, the NexStar® TX's slim design makes it a convenient way to carry your data. The NexStar® TX turns any SATA 2.5" Hard Drive into a convenient hard drive that can be used on any system with a USB port. In addition, the aluminum casing protects the drive from overheating and vibration. The NexStar® TX supports USB 1.1 and USB 2.0 to offer fast transfer speeds of up to 480Mbps. The Vantec NexStar® TX 2.5" External Hard Drive Enclosure is great for anyone who requires a high performance, lightweight, and durable portable storage solution.
Features
Aluminum Casing Cools Down Your Hard Drive




Transfer Rates Up to 480Mbps w/USB 2.0




Easily Add Storage to Any System with USB




Hot-Swappable:

Plug & Play Without Rebooting




Attractive LED Indicates Power & HDD Activity




Supports ALL 2.5" SATA I/II/III HDD/SSD (Height supported 9mm~12.5mm)



Specification
Model:

NST-210S2-BK




Device Support: SATA I/II/III Hard Drive




Device Size: 2.5''(9mm~12.5mm)




Internal Interface: SATA




External Interface: USB 2.0




HD Capacity:

Up to 2TB*




Material: Aluminum




Dimension: 129 x 78 x 16mm




USB cable Length: 581 mm (22.9 inches)




Warranty: 90 Day Vantec Warranty



Standard shipping rate does not cover northern parts of Ontario (i.e. Thunder Bay and surrounding cities or town), extra shipping charge will be applied.