Vantec SF8025L 92mm Double Ball Bearing Stealth Case Fan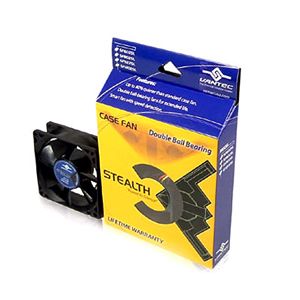 Vantec SF8025L 92mm Double Ball Bearing Stealth Case Fan
What is Stealth Case Fan? Stealth means moving, proceeding, or acting in a covert way. For people who do not like noise and are looking for a quieter case fan for their computers. Now, Vantec has the solution for you! Vantec applies Stealth Technology onto their case fan to bring users a quieter system. Up to 2600 RPM and the noise level as low as 20 dBA, Stealth Case Fan brings you the Power in Silence.
Why Should I Choose Vantec Stealth Case Fan? Vantec Stealth case fan series is 80% quieter than standard case fan. Most standard case fans noise level are 26 dBA or above, and Stealth Case fan series is only 20dBA. Double ball bearing fan designed with speed detection. All retail packages come with a 3 to 4 pin adapter and 4 fan screws. Stealth Case Fans in 60mm, 80mm, 92mm, and 120mm four lengths fit your need
Standard shipping rate does not cover northern parts of Ontario (i.e. Thunder Bay and surrounding cities or town), extra shipping charge will be applied.